Passport photo requirements Australia
The passport photo requirements for Australia are that you must submit 2 official passport photos in color
Costs passphoto Australia:
Having passport photos or visa photos for Australia is possible from € 15, and you will receive 6 photos for that.
If you also need the photo digitally, € 5 will be added.
You can walk-in without an appointment at the Hugo de Grootplein 17 in Amsterdam. Your photos are in principle ready immediately.
Of course you can also make an appointment so that you know that you will be helped at that time. (appointments take precedence over entry)
Requirements:
Good quality, color photo, less than six months old

Clear, sharp image without glasses or 'red eyes'

Plain white or light gray background that gives a good contrast to your face

Uniform illumination (no shadows or reflections) with the correct brightness and natural skin tone

Look straight into the camera

Hair from the face so that the edges of the face are visible

Eyes open, mouth closed

Neutral expression (don't smile, smile or frown), which is the easiest way for border systems to recognize you from your photo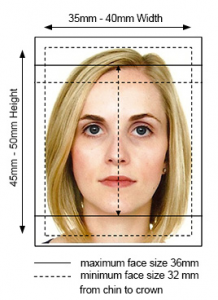 The most ideal required dimensions for the passport photo is; 40mm wide and 50mm high and the face from chin to crown between 32-36mm. (Sometimes 35x45cm is also approved.)
Headgear should be plain and worn so that the face is visible from the bottom of the chin to the top of the forehead, including the edges of the face.
Jewelry should not obscure the face and especially the area around the eyes, mouth and nose. For the same reason, photos with glasses are not accepted. There should also be no reflection of jewelry.
An open-mouthed photo is acceptable for babies and children under three years old. The photo must meet all other requirements above and no other person or object must be visible in the photo.

If you are unable to meet the passport photo requirements due to a medical condition, you can explain this with your application on the so-called B11 form.


Adjustment in requirements:
We are aware of the latest developments in the field of the rules and requirements that a country imposes on the passport photo. It is possible that a country decides to adjust the requirements for taking a passport photo. Therefore, always take the form that you receive from your consulate with you when you have the passport photo taken. In general, the consulate is the first to receive the new rules. We will then check for you whether the requirements correspond so that you are always up to date.
Request a visa:
You can apply for one of our partners to apply for your visa.
Visa abroad: Click here to apply for the Australia visa directly


Opening hours and directions to our photo studio? Click here