Want to make a passport photo at home?
At ASA Foto & Film | Fotograaf Tessa Witvoet we offer this service. There comes a time when your passport, ID card or driver's license expires or you need to apply for a visa photo. What do you do? Have a passport photo that is similar and recent for the application of your document. Of course you can visit our photo studio at the Hugo de Grootplein 17 in Amsterdam. But, you may be busy, you will not have the opportunity or it may not be possible for you to come by. We offer a suitable solution for this. We are happy to visit you to make the passport photo at home!
City district offices have designated At ASA Foto & Film | Fotograaf Tessa Witvoet as the passport photo specialist in Amsterdam.
Who is this passport photo at home suitable for?
For example, people who are in a nursing home and cannot (easily) go outside to have the photo taken by the photographer. People who are in a hospital, and whose documents expire, cannot leave to have a passport photo taken. Newborn babies with whom you do not go outside yet, who do need a document. But even if you are very busy with your work or your company and therefore do not have time to come by for your passport photo, we will be happy to visit you at home or at the office to take a passport photo at home. In addition, more and more companies are hiring us to have their employees take passport photos, not only for passport or ID card, but also for company passes or visa applications.
For people who are bedridden, it is necessary to have someone with them (family or care staff) who can assist in helping this person to get up.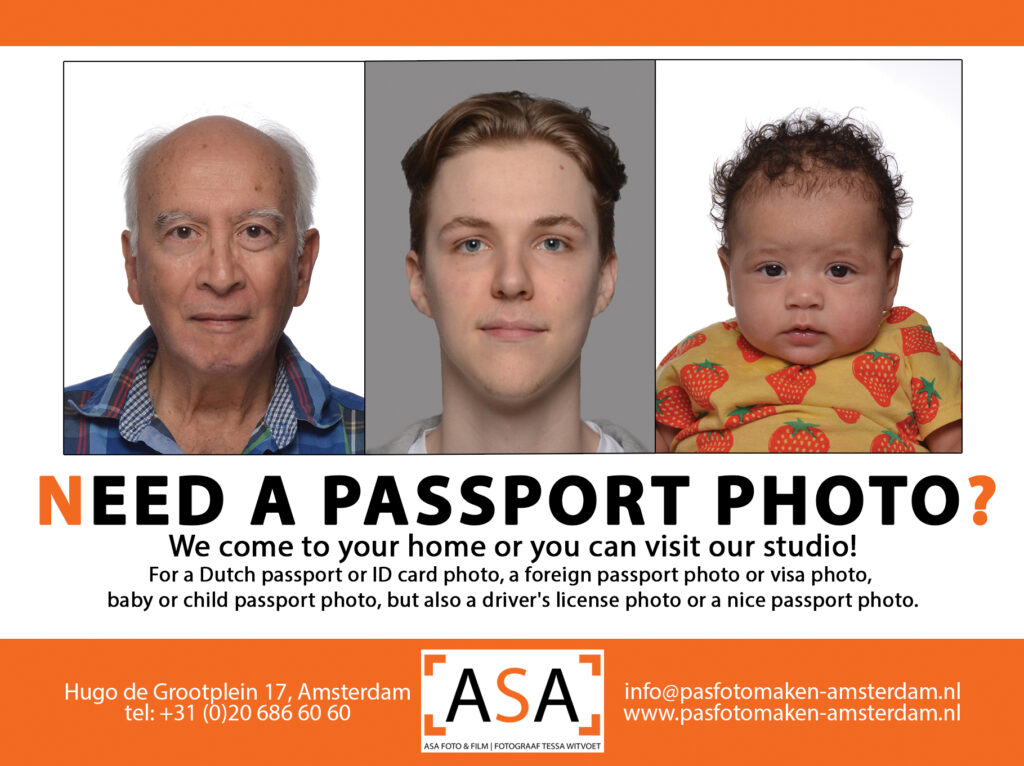 What are the costs for a passport photo on location
The costs for making a passport photo on location s/a € 45,- (this is the rate without km allowance and any parking costs). For this we come to you will receive a set of passport photos. For a Dutch document it is 6 photos, for some visa applications or foreign passports it is possible that you get a different number of photos. The payment can be made by pin or appropriate cash, although we prefer pin. If you have an administrator, we can also send you an invoice in advance, and companies with multiple passport photos also pay on an invoice basis.
Don't have family or friends around who can collect the passport photos from our studio after they are printed? No problem, for € 5,95 we can send the passport photos by post with a track and trace number.
Do you want to make an appointment for the passport photo at home?
Naturally, this special service can be ordered by appointment. Making an appointment is very easy by calling 020-6866060 or emailing info@pasfotomaken-amsterdam.nl. We plan a moment that works out well together.
After making the appointment, we will visit you for the passport photo. In addition to the professional camera, we take a background screen with us and provide sufficient light. Setting up the mobile studio and taking the passport photo takes about 10 to 15 minutes. Please keep in mind that when we come to make the passport photo your hair and / or make-up are neat and that you're ready, so we can take the photo directly for you.
Digital passport photo or print the passport photo?
Do you want a digital passport photo? Or do you want to have the passport photo printed? Everything is possible, you may want both.
ASA Photographer Tessa Witvoet can supply the following photos, among others:
Work area
For passport photos on location, it is generally easiest for us to come to you, within the Amsterdam ring, by using the bicycle or moped. In addition, we have a car that we can use to come to you if you live outside the ring. There may be additional costs due to travel time and/or parking costs, ask us about the possibilities.
Even if you live outside Amsterdam or your company is outside Amsterdam, no problem. We are happy to come to you.
Companies and passport photos on location
For companies, the price structure is slightly different when it comes to many employees, see www.profielfotograaf-amsterdam.nl or request a quote from us at info@profielfotograaf-amsterdam.nl or call us at 020-6866060.