Passport photo requirements England
The passport photo requirements for the UK (England) are that you must submit two official passport photos in color.
These must be new photos that have not been used before.
These photos should:
Have the official format (35mm width x 45mm height)
Made and printed professionally in color on white photo paper
Taken on a solid cream or light gray background
Be sharp, have good contrast and have no folds or tears or marks on both sides
So unedited are not adapted in a software program
Be younger than 1 month
Be straight in front and looking into the camera
Have a neutral expression with your mouth closed
Eyes open, visible and free from hair, reflection and glare from glasses or red eyes
Head covering should not (unless it is for religious or medical reasons)
Free from shadows on the face or behind you
Glasses should not have reflection or glare, and the eyes should be fully visible, provided they are clear
No other objects or people in the picture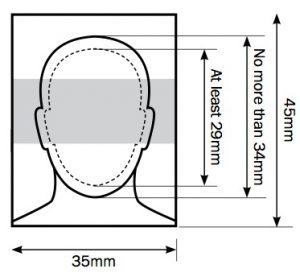 Passport photo size is 35 mm wide x 45 mm high, for both adults and children.
The size of an adult's head should be from 29 mm to 34 mm from chin to crown.
Photos of babies and children
Children must be photographed themselves and not other objects or people. In children under 6 years old, they do not need to look straight into the camera or have a neutral facial expression. And children under 1 don't need to have their eyes open. Babies should not be allowed to use toys or other objects in the picture.
Adjustment in requirements:
We are aware of the latest developments in the rules and requirements that a country imposes on the passport photo. It is possible that a country decides to adjust the requirements for taking a passport photo. Therefore, always take the form that you receive from your consulate with you when you have the passport photo taken. In general, the consulate is the first to receive the new rules. We will then check for you whether the requirements correspond so that you are always up to date.