Passport photo requirements England
The passport photo requirements for the UK (England) are that you must upload an official passport photo in color.
These must be new photos that have not been used before.
Costs passport photo or visa photo England
Having passport photos made for a passport or visa for England costs s/a € 15.- and you will receive an email with the photo file.
If you also need the photo digitally, € 2,50 will be added.
You can walk in without an appointment at the Hugo de Grootplein 17 in Amsterdam . In principle, the passport photo is ready immediately.
Of course you can also make an appointment so that you know that you will be helped at that time. (appointments take precedence over entry).
This digital photo must be:
Taken on an even cream or light gray background
Be sharp, have good contrast and have no folds or tears or marks on both sides
Not allowed to be digitally edited
Be taken in the last month
Be taken straight from the front 
Have a neutral expression with your mouth closed
Eyes open, visible and free from hair, reflection or red eyes
Headwear is not allowed (except if it is for religious or medical reasons)
Free from shadows on the face or background
Glasses should not have reflection or glare, and the eyes should be fully visible, provided they are clear
No other objects or people in the picture
Print of the passport photo
If another printout is required, it is the official format (35mm width x 45mm height). The photo must then be made and printed in a professional way in color on white photo paper.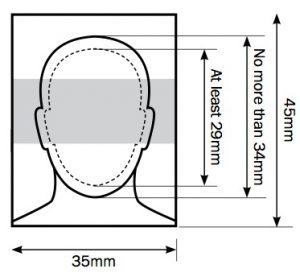 Passport photo size is 35 mm wide x 45 mm high, for both adults and children.
The size of an adult's head should be from 29 mm to 34 mm from chin to crown.
Photos of babies and children
Children must be photographed themselves and no other objects or people. For children under 6 years old, they do not have to look straight into the camera or have a neutral facial expression. And children under 1 don't need to have their eyes open. Babies should not be allowed to use toys or other objects in the picture.
Adjustment in requirements:
We are aware of the latest developments in the rules and requirements that a country imposes on the passport photo. It is possible that a country decides to adjust the requirements for taking a passport photo. Therefore, always take the form that you receive from your consulate with you when you have the passport photo taken. In general, the consulate is the first to receive the new rules. We will then check for you whether the requirements correspond so that you are always up to date.