Passport photo requirements Ireland for a passport
Passport photo requirements Ireland; for this you need one digital official passport photo in color to upload.
This photo must meet the following requirements:
Be very similar
The background should be smooth and light gray, white or cream
There should be nothing in the photo other than the person who should be in the photo
The photo must be sharp and with good lighting and color
No shadow should be visible on the face or behind the person
The photo must contain the image from head to chest height (the photo will be cropped to the correct size for a passport during the online application process)
Make sure your facial features are clearly visible, no part of the eyes should be covered
Glasses are allowed, provided the frame does not cover any part of the eyes and there is no glare in the glass
Make sure the expression is neutral, don't smile and keep your mouth closed
Do not tilt your head but look straight into the camera
Make sure there is empty space between the head and shoulders and the edge of the photo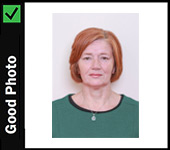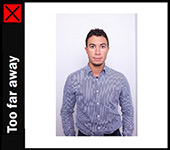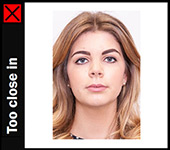 Print
Sometimes a printout is still requested. This must then be a minimum of 35x45mm and a maximum of 35x58mm and must meet the requirements.
All requirements that apply to digital also apply to the printout
Photo from the top of the head to the shoulders
The face takes up 70-80% of the photo
Adjustment in requirements:
We are aware of the latest developments in the rules and requirements that a country imposes on the passport photo. It is possible that a country decides to adjust the requirements for taking a passport photo. Therefore, always take the form that you receive from your consulate with you when you have the passport photo taken. In general, the consulate is the first to receive the new rules. We will then check for you whether the requirements correspond so that you are always up to date.