Passport photo requirements New Zealand
The passport photo requirements for New Zealand are that you must submit an official passport photo in color.
Costs for a passport photo or visa photo for New Zealand
Having passport photos or visa photos made for New Zealand is possible with us s/a € 15,- and you will receive 6 photos for this. We neatly cut these photos for you, put them in a handy folder so that it is easy to take with you. If you also need the photo digitally, € 2,50 will be added. We will send this digital photo to your e-mail address.
Make a passport photo for New Zealand without an appointment:
You can walk-in without an appointment at the Hugo de Grootplein 17 in Amsterdam. Your photos are in principle ready immediately. It is not necessary to make an appointment for a passport photo in our studio.
Requirements passport photos New Zealand:
The official size of 35 by 45 mm
Headheight must be between 32-36 mm
Photo mustn't be older than 6 months
Be very similar, good quality and good colouring
A white even background
Good contrast on background with no shadows visible behind the person
Neutral expression, mouth closed and no smiling
No hair in front of the eyes or eyebrows
Glasses are not allowed
Headgear is not allowed except for religious reasons.
Printed on quality photo paper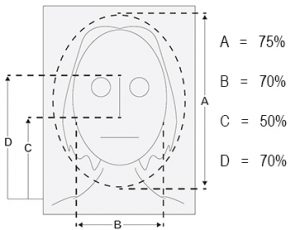 Online aanleveren:
Bestandstype: Jpeg
Bestandsgrootte: Groter dan 500 kb en minder dan 3 MB
Afmetingen: Minimaal 900 pixels breed x 1200 pixels hoog – maximaal 2250 pixels breed x 3000 pixels hoog
Adjustment in requirements:
We are aware of the latest developments in the rules and requirements that a country imposes on the passport photo. It is possible that a country decides to adjust the requirements for taking a passport photo. Therefore, always take the form that you receive from your consulate with you when you have the passport photo taken. In general, the consulate is the first to receive the new rules. We will then check for you whether the requirements correspond so that you are always up to date.